New Chinatown and Little Italy Food Tour
Consider yourself a foodie? You don't want to miss this mouth-watering tour! Join us on a journey through Chinatown and Little Italy, sampling treats and learning a little history along the way. We scoped out the following stops:
Ferrara's Bakery & Café
195 Grand Street, New York, NY
A Little Italy favorite since 1892, native Italians still claim that this shop is the best place to enjoy a morning espresso. Ferrara's is known for their lobster tail pastries and their cannoli, which are rolls of fried pastry dough filled with ricotta cheese, chocolate chips and candied fruit.
Alleva Dairy
188 Grand Street, New York, NY
Alleva Dairy is an old fashioned cheese market on the corner of Grand & Mulberry Streets. We had the delight of trying their prosciutto de parma, and some delicious fresh mozzarella. Some history that we learned on our stop: mozzarella is derived from the Italian word mozzare, meaning "to tear." When mozzarella is made, the curds are teared repeatedly before they are fashioned into the round, ball-like shapes that most are familiar with.
Piemonte Ravioli Co.
190 Grand Street, New York, NY
Piemonte is a small shop carrying a full line of traditional and contemporary pasta, which is made fresh each day. We sampled some gnocchi with San Marzano sauce, made with tomatoes grown in Naples. Because of the volcanic ash in the soil, the sauce is sweeter than most. The northern pasta paired with the southern sauce was a unique contrast.
Di Palo's Fine Foods
200 Grand Street, New York NY 10013
Di Palo's is a small, family-run latteria (dairy store) that opened in 1925. The present day owner, Lou DiPalo, strives to preserve the vision of his great-great-grandfather, who began selling handmade cheeses in New York in 1903. Lou makes frequent trips to Italy for inspiration, bringing back traditional products and knowledge of their history. During our visit we tried some delicious Piave cheese.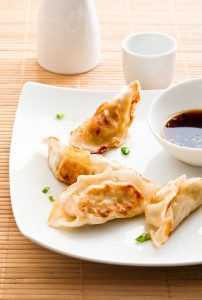 Nom Wah Tea Parlor
13 Doyers St, New York, NY 10013
Located on historic Doyers Street, Nom Wah Tea Parlor is continually swamped by locals and tourists alike. This old school eatery was the first dim sum restaurant to open in Chinatown during the 1920's. It is famous for its almond cookie, which is a popular part of the Chinese autumn festival. It is a fixture in the community and is featured regularly in film and on television shows, such as Law and Order.

Tasty Dumpling
42 Mulberry St, New York, NY 10013
This unsuspecting dumpling hotspot is lauded as the cheapest place to snag a dumpling in Chinatown. All dumplings are made fresh in-house – we recommend the classic fried pork.