Popular NYC Sightseeing Package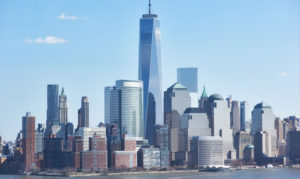 See the most famous New York City landmarks with our popular Sightseeing Package. During these tours you will:
Take a 60-second elevator ride to the top of One World Observatory, the tallest building in the Western Hemisphere. On your ride up, watch a time lapse of the Manhattan skyline from the 1500s to present day, and take in the wonder of the city from the 102nd floor. Witness brilliant panoramic views on the 100th floor observatory.
See the Brooklyn Bridge and learn its fascinating history. Hear the stories of the immigrants who worked tirelessly to build it and the dangers they faced, underwater in "caissons".

Set sail on a vintage 1920's yacht and cruise around the island of Manhattan. Members of the American Institute of Architects 

will give you the rundown on new, modern skyscraper designs as well as classic architectural icons. The yacht includes a climate-controlled, enclosed back-deck observatory, as well as an open bow. Included during the trip are complimentary d'oeuvres, as well as the option of beer, wine or champagne.
Conclude the tour with a meal at The Marshal, a charming farm-to-table hotspot in Hell's Kitchen.